Within the start of Term 2 on this course, we've moved onto a new set of Units (being Unit 5, 6 & 7). Within this week we've been asked to create a Social Media Report about the various different Social Media Platforms that are available, detailing their origins, specialities, strengths and weaknesses.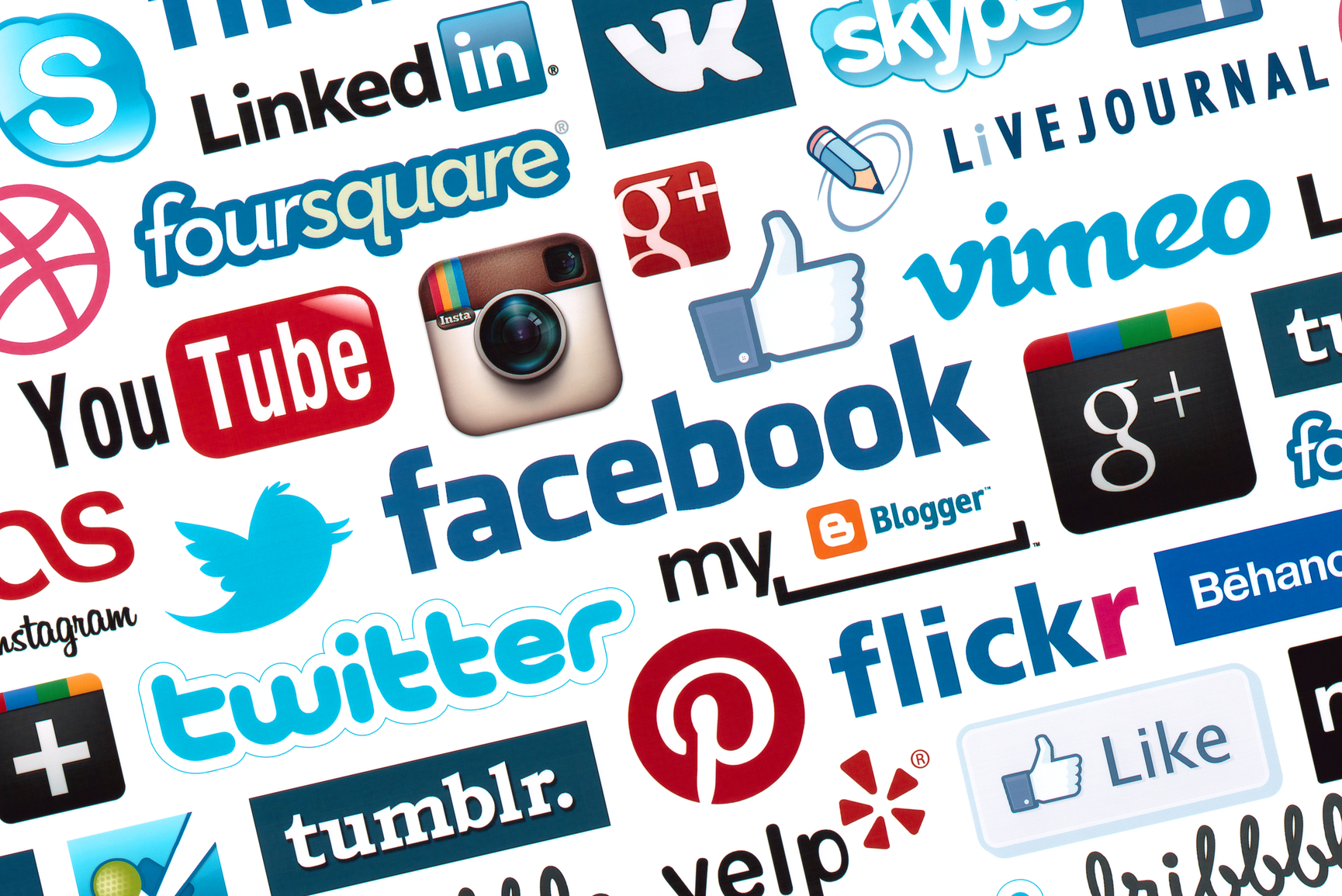 Social Media Platforms
There are hundreds of different Social Media Platforms out there at this moment in time, and probably a huge chance that there will be a lot more to appear in the near future.
YouTube
YouTube is probably one of the highest Social Media Platforms that is current out there. It's main purpose is to have audio-visual content within it that users from around the globe have created.
YouTube's Origins
YouTube's Origins began back in 2005, however, just before that, a man named Jawed Karim (who was a student at St. Paul's Central High School) constructed an email system for the school to use. He was later employed at PayPal (which was acquired by eBay in 2002). Karim became a graduate student at Stanford University, and he's worth $65 million. The wealth was because he was one of the creators of YouTube which later got sold to Google for $1.65 billion in late 2006.
The Origin of YouTube (worldhistorysite, No date)
YouTube ended up becoming something completely different to what the creators originally intended, it started off as the suggestion of being a dating website based on videos, and launching in April 2005, it didn't really take off anywhere and people didn't use it that much. After they looked into their product, they realized that they should open it to any contact (have any sorts of videos on there). They opened up their interface so people could choose what they wanted to watch, search for videos, link to related videos and have the ability to tag videos so people could have specific tags to find specific things on the website itself just from the keyword. The whole "computer-dating" concept was too limiting to the company, and the founders of YouTube tinkered with the site to allow activity that the users wanted instead, making it easier to locate videos and the product began to take off.
Karim mentioned in a public discussion the importance of timing. The conditions have to be right for a new product to be successful, for example, if YouTube launched in 2003, it wouldn't have been successful as the required conditions were not in place. MySpace was the main consumer platform as the users began to share videos from YouTube on their MySpace pages as they didn't have a way of posting videos on MySpace.
The video sharing craze began in 2004 when there was a wider variety and a greater availability to video cameras and cell phones. "When equipped media couldn't be on the scene, the amateur-made video content created a backlog of materials waiting to be used in personally expressive ways on the Internet". Before 2004, it wasn't possible to send videos by emails because they required too much bandwidth, and then broadband capability became increased for home users between 2004 and 2006 and the cost for dedicated servers went down. People were able to send and post videos fuelling the demand for YouTube.
There was a lot of viral communication (people talking about the platform and about the product to their friends, then they tell their friends, then they tell theirs and so on) and the word of YouTube began to spread around more and more.
Specialities
YouTube's main specialities is that it has a lot of different categories for the video sharing website. The site itself can post audio-visual content created by anyone around the world, and it's a great way of being noticed by somebody in an industry if they come across it. Anybody can upload a video to YouTube, however, their terms & conditions do state you have to be over 13 to have an account. It's a way to express yourself through a sense of media in your own personal way, and to express your feelings about a subject, something you enjoy doing etc. with various different genres and tags to make it easier for everyone to find what they're looking for fairly quickly.
Strengths and Weaknesses
YouTube has quite a lot of strengths towards its platform, including:
Simple and Easy to post a video
Tagging System
Easy to find what you're looking for
Post anything as long as it obeys their terms and conditions
You can be yourself and post what you enjoy
It's unique and personalized to you (for example your own channel to post videos on)
If you wanted to, you can monetize videos to get that little bit more cash from adverts
There are a lot more, however these are some of the main ones.
The weaknesses include:
It's hard for some of your work to get recognized if you don't know their current algorithm
Users can sometimes post a lot of negative feedback towards anything, even if it is one of the best things on the site. The restrictions aren't as good as they used to be and it's not always constructive criticism being supplied
You can't post images unless they're in your channel art (profile picture & banner) or in a thumbnail for your video (requires mobile verification)
You can't post audio-only without having to use some form of video overlay (even if it's just an image, webcam etc.)
---
Twitter
Twitter is one of the most commonly used Social Media Platforms as well, with billions of different accounts signed up where people get the limited 140 character tweets and are able to speak to anyone they'd like to around the world (as long as they have their username of course).
The Origins of Twitter
Twitter began from a company named "Odeo" which was a podcasting company based in South Park, San Francisco began to fail due to the fact Apple's Podcasting system was released and began to gain popularity causing "Odeo" to start reinventing themselves as a company. The company split into various different groups, where one of these groups in particular contained people now known as Jack, Biz, Noah, Crystal, Jeremy, Adam, Tony, Ev, Dom, Rabble, Ray, Florian, Tim and Blaine. Jack had an idea about using a service that uses SMS to tell small groups what you're doing. His main idea was to make the system "so simple that you wouldn't have to think about what you're doing, you just type something and send it". Smartphones back then were not that common, so generally people would have to type with T9 text inputs.
How Twitter Was Born (Sagolla, D, 2009)
Each group presented their ideas and a few of them were selected for prototyping. Demos began, and Jack's idea rose to the top as a combination of status-type ideas. Jack, Biz & Florian were assigned to build version 0.1 and were managed by Noah. Everyone else worked on maintaining Odeo just in case this new idea failed, they would have something to fall back on. The first version of the platform was entirely web-based created on March the 21st, 2006 with the first substantive message being "oh this is going to be addictive".
They struggled on a codename for the product, and the userbase was limited to the company and their family, nobody was allowed in except for these specific people. For months they were in "Top Secret Alpha" because of competing products (such as Dodgeball). The original name/codename that they gave themselves was inspired by Flickr and American SMS shortcodes being 5 characters – calling themselves "twttr". At this point in time, twttr had roughly 50 users.
Users were randomly being followed by other accounts, and they then invented a way to private their accounts so you have to accept an invite for someone to follow you, roughly 100 users were around at the time this occurred. They launched the beta of the program on one of the members birthdays (Ev) as they could now invite a slightly larger circle of friends, excluding large companies (with some trust to exceptions such as Google). Odeo was still declining and it resulted in various members being let go, being Adam, Tony, Dom & Rabble. Noah and Tim were later asked to leave. Although it was a shock, twttr kept the communication between them and allowed them to stay connected. During the transition, twttr launched to the public with very few people understanding it's value. Eventually a new corporation was created called "Obvious Corp" which acted an incubator with Twttr as it's sole project.
Jack was still an engineer, and the service was only a few months old, they re-branded the name and acquired Twitter.com. There was originally no character limit on their system. Messages longer than 160 characters were split into multiple texts and delivered sequentially. Bugs and mounting phone bills came in, and the team decided to have 140 characters in order to "leave room for the username and the colon in front of the message". Twitter became a hit after some time after they rigged a Flash-based visualizer for displays on conference halls, and Twitter ended up winning #1 in Blog Category. Jack ended up becoming the CEO of Twitter, and Twitter continued to become a hit everywhere.
Specialities
Twitter has improved itself a vast amount within the past year – from only being able to post 140 character tweets (including the link to any photos that were attached) to now allowing 4 photos being uploaded at the same time, having a 140 character limit excluding the links to the photos, having Periscope join to add the Live feature as well as being able to upload videos and gif images. Twitter is unique as it allows you to process your message across a wide variety of people as there are billions of people using the platform every single day. You can take advantage of the hashtag feature to have what you want to share if people are searching for the hashtag and could easily get recognised by various different companies, as a majority of companies use Twitter for communication purposes.
Strengths & Weaknesses
Some of the strengths from using Twitter include:
Easy communication
Easy to get your message/content out there
Has a lot of different processes to communicate (e.g Direct Messaging, hashtags, timeline posts etc.)
Can easily send messages to companies to show them what you have created for them, through direct messaging or through
Can promote certain tweets through adverts
Some of the weaknesses from using Twitter include:
Has a large amount of spam, whether it's tweets or accounts.
Twitter is rather addicting, can easily get you distracted
Advantages and Disadvantages of using Twitter (Sheley, B, 2010)
---
Facebook
Facebook is also one of the most commonly used Social Media Platforms currently out there, it's been around for a long time now, and even though it isn't used as much as it used to be used, it's still used A LOT and has a lot of benefits towards using it.
The Origins of Facebook
Back in 2004, a man known as Mark Zuckerberg (who was 23 at the time) founded a website called "Facebook" whilst he studied psychology at Harvard University. He was a computer programmer, and developed a variety of social-networking sites for other students, such as Coursematch (allowed people to view people taking their degree) and Facemash (rating people's attractiveness).
A brief history of Facebook (Phillips, S, 2007)
Originally, the name for Facebook was "The Facebook" as it was "taken from sheets of paper distributed to freshmen, profiling students and staff". Within 24 hours of the site being up, 1,200 Harvard students had signed up, and after a month over half of the undergraduate population had a profile on "The Facebook". What soon became Facebook began to spread across other universities, such as the Boston Universities, the Ivy League and eventually every US University. The site became "Facebook.com" in August 2005 when the domain name was purchased for $200,000 – after this occurred, the site spread worldwide, reaching UK universities the next month. From September 2006, anyone with a registered email address could join Facebook, and it was and always has been since free to join as the profit comes through adverts on the site. Companies such as Google and Yahoo expressed interest to buy Facebook for figures that were rumoured as $2 billion, however Zuckerberg refused to sell.
Nowadays there are billions of different accounts on the Facebook database, of course, some are inactive or imposter accounts (for example, someone claiming to be a popular singer when they're not) which is where the verification mark came into place for people who were verified as some form of celebrity or high up. People can also post adverts which usually have a very high success rate on Facebook with usually a big outcome. If you spend £50 for an advert on there, you're highly likely to receive a bigger profit than what you paid for if it's for a product. You can have pages for companies, public figures etc. and can have them created as easy as having a profile of your own.
Specialities
Facebook has begun to improve a lot over the last few years, in particular, it's implemented the Live option, which has been advertised a lot, especially on TV, around London and so much more to try and get people recognition etc. You can build up your own community with a Facebook page that anybody can create for a specific reason, whether it's a Charity, Public Figure, Company etc. You can also post status updates all the time, photos and videos in full HD quality for people to view, which could easily advertise some of your work.
Strengths & Weaknesses
The strengths of using Facebook include:
Can create some form of page for your company, charity, public figure etc.
Can be personalized to you
Have your own profile
You can sell and promote your work
Increasing a community
Increase your "brand value"
The weaknesses of using Facebook include:
Privacy features sometimes get reset without you knowing
Facebook has some fake profiles/pages
Facebook is time consuming
---
Instagram
Instagram is one of the newest Social Media Platforms that is big, launching in October 2010 with a variety of different methods of communication created through it – with the majority of it being photo sharing and video sharing, with the sense of Facebook included at the same time too, and actually was bought by Facebook!
The Origin of Instagram
Instagram launched in October, 2010, however, before that, one of the founders of the group (Kevin Systrom) created an article on how the idea came around, and the previous life before Instagram:
He said that "The story starts when I worked at Nextstop. While I was there working in marketing, I started doing more and more engineering at night on simple ideas that helped me learn how to program (I don't have any formal CS degree or training). One of these ideas was combining elements of Foursquare (check-ins) with elements of Mafia Wars (hence the name Burbn)". He also explained that if he could build some form of a prototype of an idea in HTML5 and get it to his friends, they could use it without any branding or anything included at the time. They met in a party and later decided to have coffee about the project and started raising money towards getting "Burbn" started, in particular, they raised $500k in 2 weeks time.
Mike Krieger began to talk to Kevin Systrom and from there they began to start work on the project. They took a step back and looked into the product itself, and they built Burbn into a private, neat HTML5 mobile web-app which allowed check in to locations, plans (for future use), points for hanging with friends, post pictures and more. They eventually decided that if they were going to create the company, they would first need to focus on one thing, and that thing ended up being photos. They scrapped the whole of Burbn and started work on Instagram, only keeping the photos from Burbn. They spent 8 weeks and then released the beta, shortly after is when the project began to roll out onto the Apple App Store.
What is the genesis of Instagram? (Systrom, K, 2011)
I also found this image on the site "wersm.com" which shows the history of Instagram through 2010-2013.
http://wersm.com/the-complete-history-of-instagram/
https://www.quora.com/What-is-the-genesis-of-Instagram
Specialities
Instagram was originally created as a high-quality image uploader where you can add effects to images, however a few years later it introduced videos to the platform, as well as being able to share easily with the use of hashtagging to try and get something seen. You can add the location to where something was filmed, and can easily get some form of recognition from a company by tagging them in one of the images/videos to do with what you've created.
Strengths & Weaknesses
The strengths of using Instagram include:
Has over 200 million active users (monthly)
Has one of the most engaged users compared to other social media platforms
It's very easy to post videos and photos from a smartphone
Posts will remain there forever as long as the user doesn't remove them
You can link various different accounts to it (e.g Twitter, Tumblr, Facebook) so that it posts to those sites as well
Easy to visually promote brands and products – is a powerful advertising campaign for free.
It's free
The weaknesses of using Instagram include:
It heavily relies on images and videos. If you have a poor video/image, most people won't look at it and will skip it.
A lot of photos and videos have a form of a square, however lately it can be changed in size slightly to fit your image as much as possible.
Instagram is only for iPhone's and Android Phones
It's harder to target companies or markets compared to other platforms.
The Advantages and Disadvantages of Instagram (Marko, M, 2016)
---
Google+
Google+ is a business-orientated platform with a fair different amount of uses towards it, whether it's Live Google Hangouts so people can talk about business ideas (or even just talk with cameras) to various different posts, to various different articles, whilst it's not one of my favorites, it's still one that could be heavily impacted in the media industry.
The Origin of Google+
The original pitch towards to project itself was "Create a social network, or risk everything". The colleagues persuaded Larry Page (CEO and co-founder of Google) t turn the company upside down to try and create this platform.
According to a previous Google employee, the main person who was in control of this (known as Vic) was constantly saying the one thing to Larry: "Facebook is going to kill us. Facebook is going to kill us" and eventually it must've frightened Larry, causing Google+ to form.
Google continued to try, and kept failing over and over again, Facebook began to grow larger, and valued at $14billion in 2010, approaching 500 million users, and these were just the real accounts from people around the globe! Facebook was worth nothing in comparison to Google, as Google was worth $200 billion at the time!
Inside the failure of Google+ (Fiegerman, S, 2015)
Before Google+ was properly known, Google and YouTube began a terrible form of Integration, where you HAD to have a Google+ account linked to your YouTube account, which ended up causing a lot of content creators on YouTube to become angry and upset with everything to do with the platform, and even created some nasty songs about the platform itself and how the "integration" was worthless, and has started to kill so many online personalities from YouTube.
Google+ was born with a mission to "fix" online sharing, and Google announced it would finally eliminate criticized requirements to use a Google+ account to login to other media platforms (e.g Google account, YouTube etc.). Google finally realized they shouldn't force everyone in the world to use their "Social Network" as really, it's not very good in the first place.
Google began to release features onto Google+ such as Photos and Hangouts – in particular, Hangouts was something that people really enjoyed, as it allowed Live Streaming onto the YouTube platform, general talking to friends using webcams and microphones and simply sharing screens as well. The one problem with this is that it majorly copied Skype in the way that Hangouts was formed, and it could even mean that Skype began to slow down on it's progression (as not many people use it anymore).
In the end, Google released their platform, "Plus", in a rushed environment, without any clear plan on what they wanted to do, other than try and take over Facebook through this platform. It shows how companies can't be rushed to create something, otherwise it's by sure going to fail unless they are almost certain that it is going to be a hit, which, sadly, Google+ wasn't.
Specialities
Google+ has a variety of different Specialities towards the platform, such as video sharing through hangouts, sharing posts to do with certain subjects that could be seen by a wide variety of people, creating a business and having your page easily show up through Google searches, general posting etc.
Strengths & Weaknesses
The strengths of using Google+ include:
You can have business-related hangouts to talk about projects from wherever you are.
You can post anything to do with a video or photo or even some text
Search Engine Optimization so that you can easily have your products or page show up across the Google Platform
Gmail integration so your email service is linked to your Google+ page, can be used to verify that it's your company for example.
Circles mean that you can include a variety of different posts into one circle with many people included so it's easier to share your posts to them
The weaknesses of using Google+ include:
As the platform was rushed, it's not used that much anymore as nobody really likes it.
It's hugely similar to Facebook, nobody wants to use something that's already been created and largely copied (at least not very often)
Lack of marketing schemes – not many businesses use Google+ anymore, so it's hard to get your product/video/project seen.
The Pros and Cons of Using Google+ (Honigman, B, 2014)
---
Reflective Writing
After completing the post this week, I feel that there are a few advantages and disadvantages about the post itself – some that I heavily enjoyed, and some that I didn't like as much.
As much as I love the Social Media industry, I feel writing about them in this way was a very long project idea, after writing about my favorites (YouTube/Twtter etc.) I feel I slowly began to feel a bit drained of my energy, and I didn't like some of the other platforms as much from prior experience using them.
Especially as this whole week from start to finish I've been fairly ill, I haven't had as much energy writing these posts compared to what I usually do, and the illness still hasn't gone away that I've currently got at the time of writing this post, and it's caused me to feel somewhat feel I didn't put as much effort into this post as I usually do, but in the end I did try my hardest with the condition that I'm currently in for it.
The post itself I heavily enjoyed at the start as it involved two things I use every single day of my life: YouTube & Twitter. They are some of my favourite platforms out there at the moment because I really enjoy the idea of being able to share a video that I've created to the world, and maybe it could possibly be seen and one day go somewhere in some direction. I also use Twitter every single day as it's a way of interacting with some of my friends, and some people that watch some of my videos on YouTube, and I can easily see other peoples current days which I feel is quite interesting as I can see what they've been up to for example.
Once it started getting towards the middle of the Facebook part in this post, my energy started to disappear, and whether that was because of the illness kicking in a bit or because I didn't enjoy that part of the post as much, I started to lose my energy to do with the post and found it hard to continue writing about the post itself.
I feel the main part about this post that I enjoyed was researching into the history of these social media platforms, and how they actually came around – I feel that was rather interesting as it showed me how much a simple pitch can become, or even sometimes a small side-project from general life can become.
---
 Sources
ChipMeUp (No date), Twitch Logo. Available at: https://www.chipmeup.com/twitch (Accessed: 3 January 2017)
Fiegerman, S (2 August 2015), Inside the failure of Google+. Available at: http://mashable.com/2015/08/02/google-plus-history/#qT2.78OvvsqM (Accessed: 7 January 2017)
Geoff (3 January 2014), The Complete History of Instagram. Available at: http://wersm.com/the-complete-history-of-instagram/ (Accessed: 8 January 2017)
Honigman, B (3 June 2014), The Pros and Cons of Using Google+. Available at: http://www.iacquire.com/blog/the-pros-and-cons-of-using-google (Accessed: 7 January 2017)
Instagram (No date), Instagram Brand Assets. Available at: https://www.instagram-brand.com/ (Accessed: 3 January 2017)
Jamie (2 June, No Year), 60+ Social Networking Sites You Need to Know About. Available at: https://makeawebsitehub.com/social-media-sites/ (Accessed: 3 January 2017)
JenThorpe (14 May 2016), Periscope Logo. Available at: http://progear.guru/tag/periscope/ (Accessed: 3 January 2017)
Marko, M (20 March 2016), The Advantages and Disadvantages of Instagram. Available at: http://www.mikemarko.com/advantages-disadvantages-of-instagram/ (Accessed: 8 January 2017)
Systrom, K (12 January 2011), What is the genesis of Instagram?. Available at: https://www.quora.com/What-is-the-genesis-of-Instagram (Accessed: 8 January 2017)
Twitter (3 January 2017), Twitter. It's what's happening. Available at: http://twitter.com/ (Accessed: 3 January 2017)
worldoriginsite (No date), The Origin of YouTube. Available at: http://www.worldhistorysite.com/YouTube.html (Accessed: 3 January 2017)
YouTube (3 January 2017), YouTube. Available at: http://www.youtube.com/ (Accessed: 3 January 2017)